Contact the Yorkshire Swan Rescue Hosptal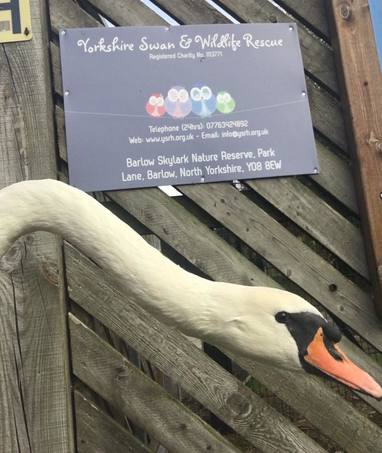 For urgent enquiries only regarding injured swans and wild animals, please telephone;
07763 424 892 (24-hours)
Whilst we provide a totally free, round-the-clock rescue service for injured swans and wild animals, we respectfully ask you consider making a donation to our Sanctuary when contacting us regarding an injured animal, so we can continue to further our important and valuable work assisting injured wildlife.

For all non-emergency enquiries, please email;
info@ysrh.org.uk
Please only email us with non-emergencies. Do not email us details of wildlife casualties, as we may be unable to check our emails frequently due to the volume of work at the Sanctuary.

Sanctuary address only;
Yorkshire Swan Rescue Hospital
Barlow Skylark Nature Reserve,
Park Lane, Barlow
Near Selby, North Yorkshire
YO8 8EW

PLEASE NOTE: The facilities used for caring for animals at the Sanctuary are not open to members of the public, so to avoid unnecassary stress and to protect any recovering sick or injured wild animals. It is important you telephone us in advance of delivering a wildlife casualty to us, so we can prepare suitable accomodation and or any equipment required. Thank you for your understanding.

Postal address only;
Yorkshire Swan Rescue Hospital
Registered Charity No. 1113771
C/O The Westerlies, Stillington Road,
Easingwold, Near York,
North Yorkshire, YO61 3ES
If you would like to make a donation or contribution to our valuable work , please ensure cheques or postal orders are made payable to "Yorkshire Swan Rescue Hospital" and sent to the address above. Please ensure you enclose your address should you wish to recieve a letter of acknowledgement and receipt in return. You can also donate to our Charity online by clicking the 'donate' button found below.

We also welcome donations of items bought from our Amazon Wish List. This allows you to choose the item at the level of donation you wish to provide to us, which will serve the injured animals in our care. The items are shipped directly to our Sanctuary, so all you have to do is choose the item you wish to donate to us - it's as simple as that! Our Amazon Wish List can be found by clicking the link below.

---